Do It Yourself Books
Hello my friends and visitors. I love learning about new things, especially when you can create your own and use something better than a product that is full of chemicals.
This is my hand picked selection of DIY eBooks I have chosen for you. I hope you find these as interesting and inspiring as I have. Have fun reading my friends.
---
DIY Organic Beauty Recipes by Heather Dessinger
If you've browsed around my website, you know how fun and
easy it can be to make your own homemade products.
This book (DIY Organic Beauty Recipes) has over 100 pages
of information, large clear photos and a lot of do-it-yourself
recipes with clear instructions.
Have you ever wanted to make your own lip gloss? Lotions for you
and the kids? Skin care products? Well you can!
You'll get sun care recipes so you can be prepared when you take
a family outing to the beach or off camping. Bug sprays and bug
bars (you don't have to be limited to sprays).
For more details, click on the book image or link above.
---
DIY Non Toxic Cleaning Recipes by Heather Dessinger
Why would you spend more on cleaning products that contain
who knows what kind of chemicals when you can easily make
your own?
The DIY Non-Toxic Cleaning Recipes eBook contains 50
recipes with clear, bright photos, a breakdown of the costs
and the money you can save.
If you haven't tried making your own cleaning products because
you don't know how, this book will show you how to make a
wash for vegetables, all purpose cleaners that are eco friendly,
laundry soap and much more.
Check it out for more details and see how organic is better.
---
Nourished Baby by Heather Dessinger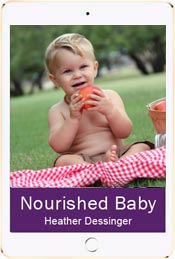 Nourished Baby is excellent. It's written so it can be easily under
stood it. It's practical, informative, and inspiring.
Many people just don't know where to look and get information that
can be trusted. Heather gives you the resources so you can make
healthy choices for your baby.
Heather provides easy recipes anyone can prepare, using traditional
ingredients that nourish and sustain a healthy body not just for baby
but the whole family as well.
If you want the best for your children, this is a book you'll want
to read.
---
---
Custom Homestead and Natural Homestead Books by Jill Winger
If you are hard working, want some property, have a little farm, grow and preserve your own food and tend your gardens, eat healthier and have a better lifestyle - these books (Your Custom Homestead and Natural Homestead) might be for you.
If you've been thinking about homesteading but not really sure how to get started, these books have some great resources to motivate and guide you through the stages of turning your home, your property, into a homestead.
These books are not just for the humans, they are for the critters you may keep on your property as well, providing you with alternatives to feed and eliminating toxins from your barnyard.
If you're looking to homestead, these books have pages and pages of information and are sure to help guide you through the process.
---
You can also purchase Your Custom Homestead for your Kindle HERE.
Natural Homestead can also be purchased for your Kindle or to read in Paperback book HERE.
---
Natural Soap Making by Jan Berry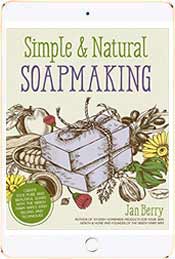 Making your own homemade products is so much fun and very
rewarding. It doesn't take much of your time and the end product
is your own creation.
This is a 75 page book with colorful pictures and information for
both beginners and experts.
You will learn how to make cold process soaps, which there are
25 step by step recipes included, how to use natural ingredients
for color, how to use the lye calculator and much more.
It's a wonderful book to have in your collection. Once you get
started you'll be making soaps for the whole family and giving
them away as gifts!
Click here to view more details
---