Hi, My name is Jamie.
I started this site and Blog to share with friends, family, and you the visitor who stopped by my website! I wanted to do something that I love and have passion for - here, with you, I get to do that! First off - if it seems that I am not writing correctly, ie: punctuation, etc.... well, that is because I write like I talk..... picture me using A LOT of hand gestures and moving my head, my eyes buggin' out. I like to think my personality really shines through my writing.
Hmmm, maybe visualizing ALL that together is a little scary, you may not want to have a face to face with me! Haha. I use a lot of this (.........) and a lot of (hahahahaha)'s. My Blog, Earth to Jamie, at www.earthtojamie.com, I named it that because this fits who I am perfectly! I am always spacing off or day dreaming, I am constantly distracted and will talk about one thing and then something else will come up or another thought and I will totally get into that! Just ask my husband, Ryan....... It will be about my daily thoughts (watch out), issues, opinions..... my family & being a wife and mother, FOOD and DRINK..... AND essential oils!
I really hope you enjoy reading about and being apart of my life, my nuttiness and my passions. Once you go into "la la land" with me...... THERE IS NO TURNING BACK.
I love to cook and so does my husband, Ryan - 35, and with a young teenager and a young toddler, it can be challenging to come up with a meal plan that works for everyone and that doesn't require a lot of time to cook, cuz let's face it - we don't have that kind of time on work days, if we do take the time for a creative hardy meal we eat later! No one in our family is particularly picky..... THANK GOODNESS!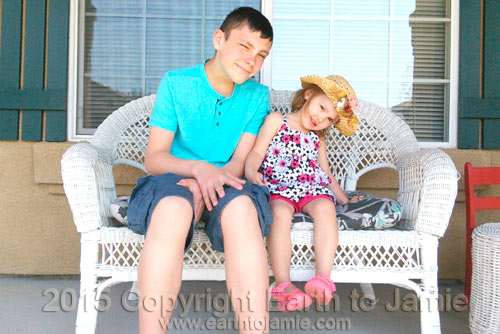 Andrew - 14, will eat anything. Although he does not like olives or sweet potatoes and that is pretty much it. Though he will eat beets and brussels sprouts! Leila - 4, she wont eat anything, but she generally eats a clean raw diet. She doesn't really like meat, only cookies she likes is Oreo's or my Grandma's peanut butter cookies, and she will not eat cake! Never know this of a toddler......
I like being creative and decorating for the holidays. Sometimes it can be hard to keep a young toddler entertained, I don't want her watching TV all the time so we come up with fun projects to do or go to the park or beach, she loves that and we get big bother to tag along with us as well.
Part of being creative is making our own products using essential oils. I am learning so much about essential oils right now and their amazing benefits. You can replace so much of your everyday beauty or household items with essential oils! Which in turn can save you a lot of money and reduce the amount of chemicals that are surrounding you! I am personally excited about this and will be sharing much more within my Blog.
Facts About Me
I'm 33, married with two kids and I live in Everett Washington.
We don't live in a large house, it was built in 1960 and has some character that's sets it apart from the other homes and that is something we wanted! Besides the four of us humans - we have two Doberman Pinschers, Ricky and Lucy - yes, just like the Ricardo's! We have two cats, Loui who I named after Louis Armstrong and Matu which is the french word for a male cat, although she is a female! Hahaha. The cats mainly live upstairs in my sons room, they will sleep wherever I am - whether that is in my bed or my daughter's. The dog's and cats don't really like each other. The dogs are good sized and man can they take up a good portion of our downstairs living space. When they play, Oh man! Watch out.
I work full-time where it can sometimes be considered a high stress job and I get to come home to those two very loveable but boisterous dogs. Yay me...... hahaha!
I think I am funny (others may beg to differ), have a good personality and sense of humor (I have to have a sense of humor being married to my husband!) I wear my heart on my sleeves. I am a highly sensitive person, so being in this world, the good and bad that happens..... wanting to be there for others, I literally feel all emotions - my own and others'. This can be a huge struggle for me.
I love deep, but when I am angry..... I am angry.
I will stick up for myself and others!
I am suffering right now with depression and anxiety, I currently am going to counseling, I love my counselor!
I hope that what I share here within my Blog, will make you laugh, cry, smile, share your opinions - maybe think or inspire you, give you some helpful tips or ideas, but most of all, I really hope it will be a place you will want to come back to and be apart of this with me..... without you, Earth to Jamie will not be Earth to Jamie.