Capturing Those Special Moments
I love to take pictures! I am a nut when it comes to busting out my phone, scoring an awesome shot then whipping something special up with a photography app. I have been told that my edits look as if the pictures were professionally taken! What a compliment.
My Photography Utensil?
My iPhone 6, amazing camera on that little sucker! I do have a big, nice and very expensive Canon camera that my ever-so-generous Mom gave me, but these days I enjoy using my phone.... one stop shop for what I like to do, and they turn out great!
You've Been Framed!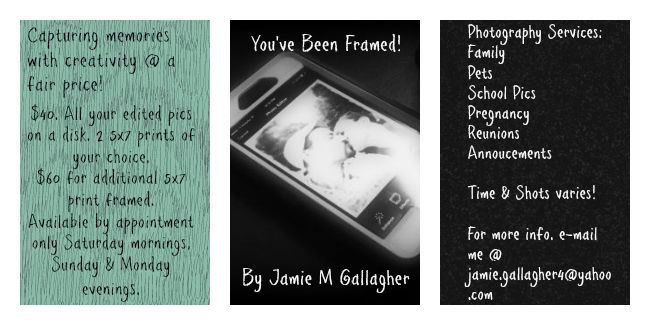 This is my photography business I am going to do on the side.... Taking pictures and making them something special, something that will give you a special feeling when you look at it, this is a hobby of mine, it makes me happy and I feel a great deal of pride with my work, especially when I am taking photos for someone else.
I recently took some family photos of my son, Andrew and his other family, my es husbands family. It was a lot of fun and they turned out amazing. Did it all with my phone, taking the pics, editing them with passion and love! These photos are what inspired me to try this out! If something comes of this, AWESOME, if not then at least I am doing something I am interested and having a good time!
If you are interested in my services, e-mail me via my contact page from Earth to Jamie, or at This email address is being protected from spambots. You need JavaScript enabled to view it..
I am not a professional, but I think I do professional work and for what I offer, I think it is a great option for a lot of people! It is not about the money for me, but just doing something I enjoy with my time and my life and to show my kids it is good to have hobbies and passion for something.

Thank you all, I hope to hear from you!