Backyard Shindig – Country Style
Summer is a great time to throw a backyard party. Barbecue hamburgers, chips, lemonade, cocktails or a potluck where every guest brings something made country style.
We'll give you ideas for throwing a country style shindig your friends will want to copy themselves and best of all – these types of parties are perfect for any occasion.
Country is the style of this party and casual country attire the theme. Because it's summer and hopefully the weather is warm and nice, you can start decorating beforehand.
Depending on what all you can do, start 2 – 3 days prior to the party. This way you give yourself plenty of time and don't cut yourself short. Maybe you can enlist some help as well.
Setting the Stage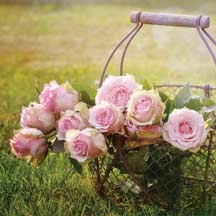 Here's a list of things you can use to decorate the backyard for your country party. Country style is warm and welcoming with painted furniture, rustic natural furniture, flowers, pillows, candles, lots of food and drinks and the list goes on and on.
Color choices can be up to you, but don't use a boatload of colors and patterns, this will distract from the overall effect you want to achieve. Use a couple of main colors, with one or two others sprinkled in. Here's some examples:
White, green (like a pastel), and a little purple.
White, green (again a pastel), and a floral pattern.
Country blue, brown, with another shade of blue or orange.
White, pink, and green (a pretty outdoorsy green)
I love using stripes and floral patterns together and you can also choose your color theme from the yard itself.
Have a Variety of Places to Seat Your Guests
Old wooden picnic tables are great because they tend to get weather worn and if they are painted maybe there is a little peeling paint that adds to the charm. A bench can be used on one side of the table and chairs for the remaining seating. Matching chairs can be used at the head of the table. Don't be afraid to mix and match the seating you use at the table. Round tables can also be used around the yard and use the umbrella where needed to provide shade.
Larger pillows and quilts can be used and placed here and there around the backyard for those who like a very casual place to sit. Pillows can also be used on benches and chairs to make it a little more comfortable. If you have trees in the backyard, make sure to utilize them for shade sitting.
What's a country party without some hay bale seating? You can add a couple of pillows or a folded up quilt for folks to sit on.
If you have to and you can, bring some indoor seating outdoors like bar stools. Check out local thrift stores for tables and chairs or even consider renting what you don't have.
Setting the Table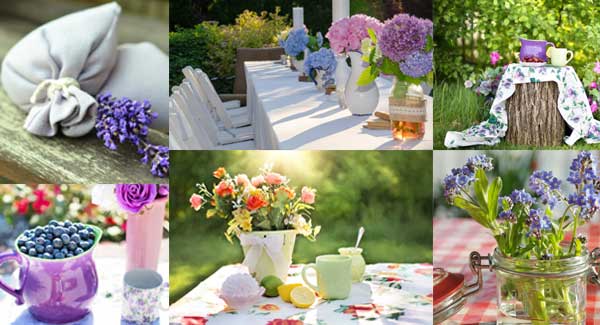 One, two or even three tablecloths can be used on each table. Experiment with the way you use them.
For instance, instead of using a tablecloth that fits over the entire table, use a narrower cloth and lay it over the middle of the table hanging over the sides almost to the ground. If you don't have a smaller tablecloth, fold a large one in thirds to make a narrow one. You could also use two in this same fashion as well.
Another thing I like to do is layer the tablecloths. You could start by having a white tablecloth on the bottom and placing a printed pattern on top placing it at an angle. Don't be afraid to experiment here, table decorating is a lot of fun.
On each table have a bowl of snacks, flowers, disposable cameras, and a candle or two. You can use old mason jars as vases and candle holders; and baskets for napkins and snacks. If you use candles, get some that have a nice scent to add to the casual ambiance of your backyard party.
Something else fun to do would be to leave take away gifts on the tables for your friends. Nothing big, maybe something like lavender sachets for the girls and a fun beer bottle opener for the guys?
Paper plates are always a good idea, but if you want a little something more get two sets of plates that work together for each place setting. Drinks can be served out of old (clean) jars, blue tinted glass or a clear glass - again, check out the thrift stores, you'd be amazed at what you can find.
Decorating the Yard for Your Country Themed Party
Besides setting a perfect table, there's lighting and games and my favorite - walking around with a camera taking plenty of pictures to share later. So here's some ideas:
Horseshoes? Yea, who wouldn't like a friendly game of horseshoes?
Not only can you use hay bales for seating but if you're like me and you love taking pictures, make this kind of seating picture perfect and you'll have great pictures to share with your friends. If you have horses, take a saddle and set it on a bale of hay. If you do take pictures have a place or two set up for that and decorate with a saddle, bridle, pitchfork and a wagon wheel if you have it. Sprinkle hay or straw on the ground around the picture area or a quilt, etc.
Paper lanterns can be strung around for lighting when it starts getting darker out. You can also hang a few old lanterns around.
I still enjoy piñata's, your never too old and after a few drinks can be down right fun to watch. I think the adults enjoy the candy and party favors but if it's in your budget maybe you could spring for a few gift cards and watch your friends fight over those.
Set up a bobbing for apples table. I know some people aren't going to want to ruin their hair or makeup but it can get fun as the night wears on. This is always good for a few laughs, just keep some hand towels around.
Oh and how about a rousing game of pin the tail on the donkey. See who's tail gets pinned. Lol.
I know we're all adults but we all like getting a little something for taking first.
How to Dress for a Country Shindig
For this party its casual. Faded denim jeans, worn or with sequins and cowboy boots, a paisley print shirt, plaid, or a t-shirt with a corny saying or your favorite country star with a cowboy hat and you can't forget the big belt buckles. Western skirts; short or long, jean vests, and braids, or a bandana tied loosely around the neck.
Choose your accessories according to what you're wearing but turquoise and silver are a good mix just don't over do it. You could even go all out and wear chaps.
Country Party Foods and Drinks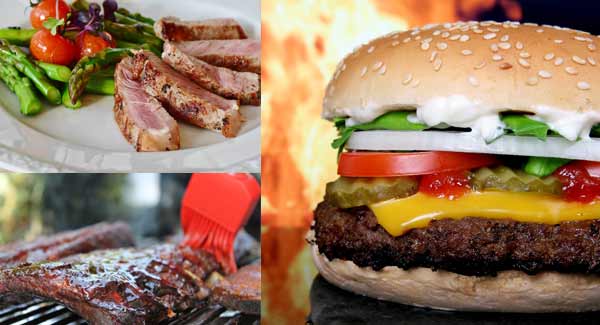 Barbecue hamburgers with all the fixings. Little pigs wrapped in a blanket with dipping sauce. Hot dogs, barbecue chicken, barbecue anything really.
Peanuts and caramel corn set on each table in wooden bowls. Chips and salsa set on each table is great for snacking on to.
For drinks you can serve lemonade – both yellow and pink. Sun tea is something most everyone likes, maybe a fruity drink and a tub filled with ice full of water, and a couple favorite sodas, beer and alcohol for mixing.
Country Music for Your Backyard Shindig
What's a country shindig party without Country Music? Play it proudly, just not so much the neighbors come a knockin'. You probably have your favorites but here's some just in case.
Tim McGraw
Blake Shelton
Big & Rich – One of my favorites is Save a Horse Ride a Cowboy.
Kenny Chesney
Alan Jackson
Shania Twain
Brooks & Dunn – Boot Scootin Boogie is a great one from them.
Garth Brooks – One of my favorites of his is Friends in Low Places.
Taylor Swift
Brad Paisley
Faith Hill
Keith Urban
For dancing you could throw down a large piece of plywood sprinkled with straw and use string lighting around the dance floor.
Party Invitation Ideas
I know we're adults here but ya gotta' get in the spirit. Start by designing your own idea on the computer, use words like cowboy up and party down, get your boots on and mosey on over, hoot and holler, howdy, see ya'll, etc. There are many places where you can get free images to add to the invite like boots, cowboy hats, sheriff badge and so on. Print your invitations out on parchment paper and put them in the mail.